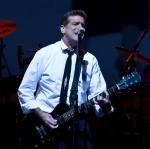 Glenn Frey
6 november 1948 - 18 januari 2016
Glenn Frey, een van de oprichters van de Eagles, is overleden. Hij is 67 jaar geworden. De Amerikaanse band werd wereldberoemd dankzij hits als Hotel California en Desperado.

De mededeling werd vanavond gepubliceerd op de officiële website van de Eagles. Daar is te lezen dat Frey de laatste weken ernstig ziek was. Hij herstelde van een operatie die hij in november had ondergaan, maar waarna complicaties waren opgetreden. Frey overleed in New York.
Dear Glenn,
Your band was great, your music was great,
you were a great and beloved musician.
Thanks for all.
Op 11 mei 2016
om 10:43 getekend door:
T.h.e.o. .H.o.f.m.a.n.s. .N.e.t.h.e.r.l.a.n.d.s.
Dit is niet ok
You were One of the best.I will always remember You and keep your music close to my
Hearst Rotterdam. R. I. P XXX
Op 26 april 2016
om 23:04 getekend door:
M.o.n.i.q.u.e.
Dit is niet ok
Dear Eagles, Jackson, Bernie, Irving, Cindy and children,

It's almost six weeks ago that Glenn died and I still misses him everyday. I've seen you all on tv at the Grammy awards and I saw how you all misses him to.
The song Hole in the world became for me Hole in my heart.

I wish you all much love and strength for the future.

Yvonne, The Netherlands
Op 27 februari 2016
om 14:04 getekend door:
Y.v.o.n.n.e.
Dit is niet ok
Dear Glenn , since our last meeting in the Ziggodome 2 years ago i was deeply shocked!
My prayers go out to you loved ones and your family.
I am very sad and i donoit understand your demise.
Sincerelys yours,
Gerhard Sellich
Dear Glenn,
Thank you for the beautiful music you have wrote and sung. I never forget.
I "ll always listen to your music

Thankss

maybe we se each other in heaven!

Peter Kap
Netherlands
Op 25 januari 2016
om 22:29 getekend door:
P.e.t.e.r. .K.a.p.
Dit is niet ok
Dear Glen, wife, children, family, friends and Eagles.

I still wanne sleep with her in the dessert tonight with a million stars all around.

Dedicated also to Denise Gelper way back in 1975.
Denise past away in December 2013.

May more listners realize now those great everlasting songs from back than.

Glen Frey.
Still going strong.

Sincerely Yours,

Cees P. Veth
Holland.
Op 25 januari 2016
om 18:57 getekend door:
C.e.e.s. .P... .V.e.t.h.
Dit is niet ok
R.I.P. thanks for sharing your beautiful talent whit us. I enjoyed your music very much!
I wish you peace,

and I will always play your sons
thank you. Clenn Frey
Op 24 januari 2016
om 12:55 getekend door:
B.e.r.t. .T.e.u.n.e. . .d.e.l.f.z.i.j.l. .G.r.o.n.i.n.g.e.n.
Dit is niet ok
Glenn thank you for all mine childhood memories and the times I dreamed away bij the Music of the Eagles I stayed in the hotel Calofornia and belongd to the city and the heat was on R.I.P.you Will be missed
Op 23 januari 2016
om 1:06 getekend door:
A.n.n.e.m.i.e.k. .v.a.n. .B.e.m.m.e.l.e.n.
Dit is niet ok
No words... just music..and tears...
Thank you for your amazing legacy. RIP...
Op 21 januari 2016
om 14:14 getekend door:
S.i.l.v.i.a.
Dit is niet ok
Glenn Frey you belong to the city but you're already gone.
R.I.P.you'll be missed.
Op 20 januari 2016
om 17:44 getekend door:
P.a.t.r.i.c.k. .P.o.s.t.
Dit is niet ok
Take it easy Glenn, eagles will always keep flying high,we will never forget the songs you brought to our joy. RIP.
Op 20 januari 2016
om 15:33 getekend door:
a.r.i.e. .v.e.l.i.n.g.
Dit is niet ok
gone too soon

you'll be sadly missed and remembered

Doolin' Dalton/Deperado (reprise)
Geweldige muziek, forever... RIP
1
Contact met Rob Hasenbos:
---
Een blijvende herinnering aan:
Glenn Frey
U kunt van dit register en de toegevoegde condoleances zelf een boekje maken en laten drukken.
Meer info >
Hou me op de hoogte
Wilt u op de hoogte gehouden worden als er nieuwe (nationale) registers geopend worden? Condoleance.nl biedt verschillende mogelijkheden om op de hoogte te blijven, zoals e-mail, Twitter en SMS.