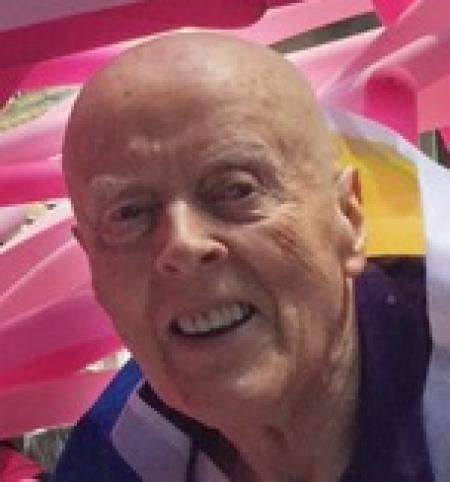 Wim de Ronde
14 februari 1930 - 25 december 2020
Mijn vader zei altijd dat oud worden niet leuk is, het valt niet mee.

My father always said getting old is not fun, it is not easy.
In de jaren 50 is (oom) Wim naar New York gegaan en heeft daar als landschapsarchitect vele jaren voor de stad New York gewerkt. Graag ontving Wim familie uit Nederland en hij genoot van mensen om hem heen. Met zijn Amerikaanse vrienden heeft hij de Hollandse gezelligheid gedeeld. Zijn deur stond altijd open voor zijn vrienden, hij was een echt mensenmens. Het ouder worden viel hem niet mee.

In the 1950s (Uncle) Wim went to New York and worked there as a landscape architect for the city of New York for many years. Wim gladly welcomed family from the Netherlands and he enjoyed the people around him. He shared Dutch cosiness with his American friends. His door was always open to his friends, he was a real people person. Getting older was not easy for him.
Ik kan je zien van 's ochtends vroeg tot 's avonds laat
Er valt voor jou aan mij niet te ontkomen
Omdat je haarfijn op mijn netvlies staat
Ik hoef je niet te zien ik kan je dromen

Zelfs als je bij me weggaat, maakt dat niet echt uit
Ik heb mijn voorzorgsmaatregelen al genomen
En ik heb je zo weer terug als ik mijn ogen sluit
Ik hoef je niet te zien ik kan je dromen

Bedankt lieve oom Wim voor alle mooie, leuke, grappige, gezellige, dierbare momenten.
Maar het zal wel héél stil zijn...



I can see you from dawn till dusk
For you there is no escaping me
For the memory of you is seared in my brain
I don't need to see you, I can dream you

Even when you leave me, it wouldn't really matter
I've already taken my precautions
When I close my eyes, you return to me
I don't need to see you, i can dream you

Dear uncle Wim thank you for all the beautiful, endearing, funny and precious moments we had together.
But it will be very quiet………….
Op 4 januari 2021
om 9:19 getekend door:
P.e.g.g.y. .K.o.n.i.n.g.
Dit is niet ok
Wim was een oom van mij en ik kende hem van jongs af aan. "Iets" zweefde om hem heen maar ik was nog te jong om dat te begrijpen. Het was ook een andere tijd. Pas later toen ik meer wereldwijs was geworden kwam het contact met hem op gang. Schrijnend waren zijn herinneringen aan zijn adolescentie.
Hij hield van fotografie en kunst en gaf altijd een positieve reactie als je hem iets toestuurde.
Door zijn aard en aanleg ook was hij gevoelig voor menselijk verhoudingen. De normen in de samenleving. Daar kon ik wel wat van leren. Verhalen uit het (familie)verleden waren een mooie aanvulling op mijn eigen geschiedenis. Hij was de laatste van zijn generatie en de bron die hij was zal ik missen.
Op 3 januari 2021
om 13:08 getekend door:
D.i.r.k. .K.o.n.i.n.g.
Dit is niet ok
In 1984, now almost 40 years ago, I interrupted my architecture studies in Amsterdam to study for a year at the Pratt Institute in New York. I was more than welcome to move in with Wim. Wim was waiting for me in the arrivals hall of JFK with a large sign with my name on it. We drove to his house via the scenic route, the night fell and I saw the wall of Manhattan passing by. Unforgettable!

I lived with Wim for almost a year, I got a room in his basement. We had a click immediately, Wim showed me his designs as a landscape architect for the City of New York. I shared my Pratt design studies with him.
It was the turbulent 80s and Wim got to know me a lot about the nightlife of New York.Wims' door was always open, everyone was welcome.
Wim was a life artist, he managed to make something beautiful from something as small as a succulent plant under a fluorescent lamp. His garden was a tropical paradise, with a tobacco plant, a greenhouse and a pond with goldfish. And so he always saw the good in every person who passed his life path, He never judged, he was a person of love.
Op 2 januari 2021
om 21:10 getekend door:
T.j.e.r.k. .Z.w.e.e.r.s.
Dit is niet ok
Wim en ik zijn van het bouwjaar 1930. Jarenlang had ik kontakt met de familie in Zoutelande.Zomervaknties met Wim en de oudere kinderen. In de jaren na de oorlog nog met Wim in Zuid Limburg afstanden gewandeld..Vele gesprekken gev oerd. Helaas zijn nadien de contacten verwaterd tot ik een mail vanher ontving enkele jaren geleden. Hier
Op 31 december 2020
om 14:56 getekend door:
B.e.n. .V.i.e.r.d.a.g.
Dit is niet ok
Like many of us, I was not prepared for Wim's passing on Christmas day. I deeply loved Wim. I met Wim nearly 40 years ago at NYC Parks in the early 1980's. We immediately became the closest of friends, a friendship with memorable memories.

Wim and I shared a wonderful and exciting work experience together. Our timing as park design professionals occurred during a NYC Parks Renaissance. This rebirth, associated with social change resulted from where parks were considered liabilities and slowly transformed into successfully assets. This was achieved by the dedication and will by design professionals like our loved Wim.

Our 28-year age gap did not impede our friendship, it made it more worthy. I learned so much from Wim. While managing all Brooklyn parks, Wim was my right-hand buddy. He accompanied me when I managed Parks first In-House Design Division and always offered his assistance in training and guiding our younger professionals with his kind and respectful approach. Our time at work together were long challenging days and sometimes weekends. We were together for more hour's weekly than any committed relationship. When I left Parks to work for the Mayor's Office, I missed seeing Wim most but knew he was surrounded by many at work who also dearly loved him.

Wim and I also enjoy each other's company outside of the work environment. We traveled to the Netherlands together, celebrated holidays and birthdays and on some occasions, we ended up in dangerous yet fun situations. Basically, we were inseparable.

As I look back, he was more of a father to me. He looked out for me as I did with him especially during the AIDS crises which had ravaged our community killing many of our colleagues, close friends and lovers. At times, we thought we would be next and prepared ourselves for the worst.

Wim always shared his deepest secrets with me. Life as a gay man was a hardship for Wim growing up in a time when homosexuality was frowned upon. His parents loved him but treated his homosexuality as a decease where Wim encountered shock therapy etc. In perspective, Wim was a young gay boy growing up during WWII where gays were imprisoned. Luckily, Wim had a choice and decided to leave the Netherlands and relocated to the USA and found us, his extended family.

During Covid, I called Wim often. I told Wim how excited I was to retire and see more of him but Covid kept us apart. Wim was my confidante. We would speak for long periods of time and he never showed any signs of memory loss etc. Our conversations would start with our healthy diets, our exercise routines and always ended up on the wild naughty side. If the wild Wim didn't surface, I would be very concerned.

Wim, your soul was too young to leave us! I will miss you! God bless you my dearest friend and rest in peace!
Op 31 december 2020
om 0:50 getekend door:
G.e.o.r.g.e. .V.e.l.l.o.n.a.k.i.s.
Dit is niet ok
Met veel plezier denk ik terug aan alle bezoeken door de jaren heen aan oom Wim. Met veel warmte werd alle bezoek ontvangen en stond hij altijd klaar om mensen om hem heen te helpen. Een inspireerde man. Hij stond altijd open voor de nieuwste dingen. Zo bleef hij lang doorwerken om nog met de computer te leren werken. Tekeningen maken in autocad. Na een berichtje dat ik Skype op mijn iPad had werd ik 2 dagen later gebeld en zijn we gaan facetten. Wim had meteen een iPad gekocht om contact te kunnen hebben. Op zijn 85 ste verjaardag zijn we nog een nieuwe auto gaan kopen omdat hij dat nodig vond, moest met achteruitrijcamera zijn omdat hij de auto niet meer zo kon kon overzien. Een week bij Wim zorgde voor hem altijd voor regelmaat en door onze dagelijkse activiteiten leefde hij dan ook weer helemaal op. Jammer dat dit jaar er geen mogelijkheid meer was om hem te bezoeken. Ik ben heel blij dat ik nog op zijn verjaardag was waarvan hij geweldig genoten heeft, met name van het weerzien van een groep collega's heeft hij erom genoten. Rust in vrede.

With great pleasure I think back to all the visits over the years to Uncle Wim. All visitors were received with great warmth and he was always ready to help those around him. An inspired man. He was always open to the latest things. He continued to work for a long time to learn how to work with the computer. Create drawings in autocad. After a message that I had Skype on my iPad, I was called 2 days later and we started faceting. Wim immediately bought an iPad to have contact. On his 85th birthday we went to buy a new car because he thought it was necessary, had to be with a rear view camera because he could no longer see the car like that. A week with Wim always ensured regularity for him and our daily activities revived him completely. It is a pity that this year there was no longer any possibility to visit him. I am very happy that I was still on his birthday, which he enjoyed immensely, especially seeing a group of colleagues again. Rest in peace.
Op 30 december 2020
om 21:28 getekend door:
M.a.r.c.o. .d.e. .R.o.n.d.e.
Dit is niet ok
Wim was mijn oudoom.
Van jongs af aan hoorde ik altijd de verhalen over oom Wim in New-York.
In 2016 heb ik hem 3 dagen lang bezocht.
Het was mooi om deze ze stad zo via familie te bezoeken,en we hebben hele mooie gesprekken gehad.

Wim was my great uncle.
When i was a child i always heard the stories about Ney-York,so far away.
In 2016 i visited Wim.
It was very nice to se the city trough my familie.
And at night we had some great conversations.
Op 30 december 2020
om 2:20 getekend door:
V.i.c.t.o.r. .v.a.n. .D.a.l.e.n.
Dit is niet ok
Wim was my neighbor here in Brooklyn as well as my colleague at NYC Parks. A warm and caring person, I also remember his joy and wacky sense of humor. From time to time, especially if there was some excitement in the office he would bark like a dog! and lots of us would join in.

He left the world with much more kindness than before he was here.
Op 29 december 2020
om 19:04 getekend door:
M.a.r.c.h.a. .J.o.h.n.s.o.n.
Dit is niet ok
Wim was an angel. Truly loved by all at NYC Dept of Parks. RIP Wim.
Op 27 december 2020
om 20:40 getekend door:
M.i.c.h.a.e.l. .B.o.l.g.e.r.
Dit is niet ok
Dag Marco, gecondoleerd met je bijzondere oom. Ik weet dat jij een speciale band met hem had. Zo'n uniek mens die best een bijzondere keuze heeft gemaakt om naar New York te vertrekken. Wat ik begrijp bleef hij altijd heel belangstellend naar jullie toe. Wat zal je hem missen. Ook als belangrijk lijntje naar je vader toe!
Op 27 december 2020
om 13:45 getekend door:
L.i.e.s. .v.a.n. .V.l.i.e.t.
Dit is niet ok
1
Dit register is aangemaakt door:
Marco de Ronde
op 26 december 2020
en blijft zichtbaar tot:
26 februari 2021
Contact met beheerder >
Contact met Marco de Ronde:
---
Een blijvende herinnering aan:
Wim de Ronde
U kunt van dit register en de toegevoegde condoleances zelf een boekje maken en laten drukken.
Meer info >
Hou me op de hoogte
Wilt u op de hoogte gehouden worden als er nieuwe (nationale) registers geopend worden? Condoleance.nl biedt verschillende mogelijkheden om op de hoogte te blijven, zoals e-mail, Twitter en SMS.