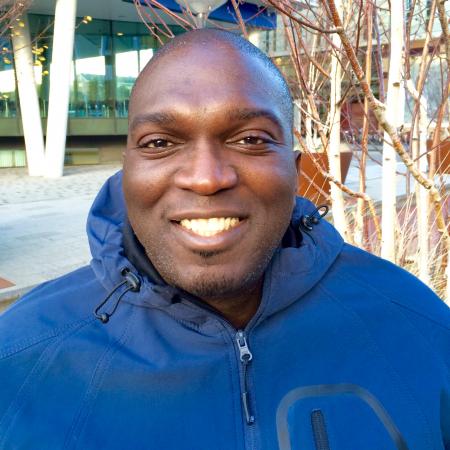 Dr. Bruce McAlister Flemming
14 maart 1979 - 29 april 2020
"I don't want to be a burden.." - Dr. Bruce McAlister Flemming
Job 1:21 "Naked "
We hereby announce the sudden passing of our beloved son, brother, uncle and nephew

Dr. Bruce Mc Alister Flemmimg
Born, March 14, 1979 on St. Maarten - Died April 29, 2020
Leiden, The Netherlands

He was predeceased by his dearly beloved grandmother - Therese M. Guy

He leaves to mourn his beloved mother: Prophetess Silvina Matthews, of BOLD Ministries

His father : Pastor Esmond Flemming, of Global Mission

His adopted grandparents: Mrs. Judith and Vanico Richardson

His special and most loved sister: Shoulaika Maduro

And sister: Tebron Flemming

His Brothers: Esmond Roger Flemming, Sherdwin Maduro, Tayib Flemming and Esmond Flemming Jr.

Brother –in-law: Herbert Jn. Charles

Aunts: Mavis Jeffers-Matthews, Emerlene Brands-Matthews, Casilda Matthews, Cristinita Samuel-Guy,Sandra Mercelina, Thelma Mentha, Cynthia Flemming and many others too numerous to mention.

Uncles: Minister of E.C.Y.S Drs. Rodolphe Samuel, Samuel John Jeffers, George Mentha, Johan Mercelina, Ishmael Richardson


All donations, sympathy cards, and well wishes may be sent to:

Mrs. Silvina Matthews

Guanabay Road #1a, Philipsburg, Sint Maarten
or
silvina680@hotmail.com
We are grateful that we have shared some beautiful moments with you. We will cherish these memories. With love, Jordy and Angie
Op 23 mei 2020
om 17:47 getekend door:
A.n.g.i.e. .e.n. .J.o.r.d.y.
Dit is niet ok
With many fond memories to your disarming personality and warm friendship. Till we meet again
Op 23 mei 2020
om 16:31 getekend door:
A.r.n.o. .R.o.e.t.e.r.i.n.k.
Dit is niet ok
My deepest condolences to you and your family. 🙏🏽💐 Carlos and Claire
Op 22 mei 2020
om 2:00 getekend door:
C.l.a.i.r.e. .R.o.m.n.e.y.
Dit is niet ok
On April 29, heaven welcomed a gentlemen by the name of Bruce Fleming. May your soul rest in eternal peace Bruce. Your memories will forever be in our hearts.
Op 21 mei 2020
om 16:16 getekend door:
c.a.r.e.e.n...m.i.l.t.o.n.7.0.@.g.m.a.i.l...c.o.m.
Dit is niet ok
Rest in Peace Bruce. you will live forever in my heart. You will be dearly missed, but God knows best.
Op 21 mei 2020
om 1:14 getekend door:
I.r.e.n.e. .G.a.a.r.i.-.A.r.r.i.n.d.e.l.l.
Dit is niet ok
Thank you for shining your light so bright in this dark world. Thank you for showing me selfless love. You will be always in my mind and heart. Love you
My brother, my friend...THANK YOU for sharing your warmth, kindness, love with me.
May your beautiful, gentle soul find rest and peace.

I love you Bub.
Op 19 mei 2020
om 14:56 getekend door:
J.e.s.u.s. .R.i.c.h.a.r.d.s.o.n.
Dit is niet ok
Rust Zachtjes Bruce, En Mag De Engels Jouw Rust Plaats Protekteeren
Op 19 mei 2020
om 13:44 getekend door:
R.o.s.e.m.a.r.i.e. .W.i.l.l.i.a.m.s.
Dit is niet ok
1
Dit register is aangemaakt door:
Barbara
op 18 mei 2020
en blijft zichtbaar tot:
18 juli 2020
Contact met beheerder >
---
Een blijvende herinnering aan:
Dr. Bruce McAlister Flemming
U kunt van dit register en de toegevoegde condoleances zelf een boekje maken en laten drukken.
Meer info >
Hou me op de hoogte
Wilt u op de hoogte gehouden worden als er nieuwe (nationale) registers geopend worden? Condoleance.nl biedt verschillende mogelijkheden om op de hoogte te blijven, zoals e-mail, RSS, Twitter en SMS.
Condoleance.nl op je mobiel
Speciaal voor iedereen die via de mobiele telefoon Condoleance.nl wil bekijken, hebben we een compakte mobiele versie van de site ontwikkeld.
Dit register op je site of blog
Wil je dit register op je eigen website of blog vermelden? Gebruik dan de code onder de knop.
Kopieer de code hieronder en plak deze in je blog of site: