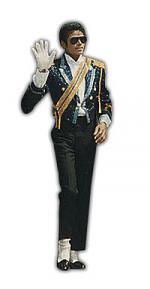 Michael Jackson
29 augustus 1958 - 25 juni 2009
This is it...
Michael Joseph Jackson (Gary (Indiana), 29 augustus 1958) is een Amerikaanse popzanger. Hij geldt als een van de succesvolste artiesten van de 20e eeuw, zo niet de succesvolste. Jackson onderscheidt zich door zijn herkenbare castraatachtige zangstem, zijn typische dansbewegingen en zijn grote muzikale diversiteit.
In zijn topperiode, het begin van de jaren '80, was Michael Jackson één van de grootste popsterren. Hij bereikte zijn grootste succes met het album Thriller, dat met bijna 108 miljoen verkochte exemplaren al meer dan 25 jaar geldt als het best verkochte album aller tijden. Jackson heeft wereldwijd meer dan 750 miljoen albums verkocht.
Jackson versterkt zijn muziek en imago met opvallende videoclips, waarin zijn ritmische dansstijl duidelijk tot uitdrukking komt. Een van de bekendste videoclips, die van Thriller, duurt maar liefst 18 minuten. Hij houdt sinds 1995 het record voor duurste muziekvideo. De clip voor zijn hitsingle Scream, een duet met zijn zus Janet Jackson, kostte maar liefst 7 miljoen dollar. De video, geregisseerd door Mark Romanek, kreeg een MTV Video Music Award in de categorie dance en een Grammy Award voor beste korte video. Karakteristiek voor de muziek van Michael Jackson is de stem en de in bijna alle nummers aanwezige sterke baslijn.
Naarmate de ster van Jackson rees, begon zijn populariteit echter te dalen. Mede als gevolg daarvan verschoof de aandacht in de media van zijn muziek naar het nogal excentrieke karakter van Jackson en zijn privéleven. Hij werd dikwijls afgeschilderd als iemand die totaal afgezonderd leefde van de 'grote-mensenwereld' en zijn tijd liever met kinderen en dieren doorbracht (het Peter Pan-syndroom).

Bron: Wikipedia.org
Voor dit register is het helaas niet mogelijk een boekje te maken.
Hou me op de hoogte
Wilt u op de hoogte gehouden worden als er nieuwe (nationale) registers geopend worden? Condoleance.nl biedt verschillende mogelijkheden om op de hoogte te blijven, zoals e-mail, RSS, Twitter en SMS.
Condoleance.nl op je mobiel
Speciaal voor iedereen die via de mobiele telefoon Condoleance.nl wil bekijken, hebben we een compakte mobiele versie van de site ontwikkeld.
Dit register op je site of blog
Wil je dit register op je eigen website of blog vermelden? Gebruik dan de code onder de knop.
Kopieer de code hieronder en plak deze in je blog of site: